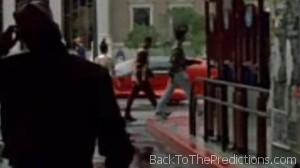 The first vehicle Marty saw as he walked out into Courthouse Square in Hill Valley was an Owosso Pulse.  There were 347 of these "autocycle" cars produced between 1985 and 1990 in Owosso Michigan by the Owosso Motor Car Company.  The first 21 were named "Litestar" before the name was changed to "Pulse".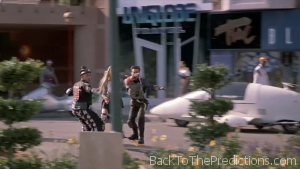 Technically, a Pulse is a motorcycle with no more than three wheels touching the ground at any one time.  It rides on two main wheels in the center and has two wheels on outriggers.
Two Pulse vehicles are seen in the film.  According to an article in The Argus-Press from November 22, 1989, the car maker had high hopes that the exposure from the movie would attract investors.  They were likely disappointed to see that neither of these vehicles got much screen time.  The red Pulse was only seen driving by as Marty walked out to the square.  (As you can see from our screenshot, it wasn't very visible.)  The white Pulse was parked on the street and only seen in the background, mostly for a couple quick shots during the hoverboard chase.  The white Pulse is #74 and was seen in SeaQuest DSV and other Universal productions before being sold to a private owner.  The red Pulse's number has yet to be identified, but is part of the studio tour at Universal Studios Hollywood.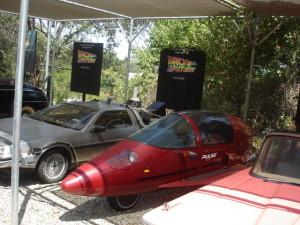 Although hundreds of these cars exist, production ceased soon after the movie was released.  You can sometimes find one on eBay where one in mint condition may sell for over $25,000.  (I've been dreaming of having one of these for nearly 20 years, but can't justify the steep prices.)  Many are still on the road in California, but it's highly unlikely that you'd see two driving around the town square.  Based on how unlikely it is, this doesn't seem like a good representation of our 2015.
Prediction Accuracy: Failed