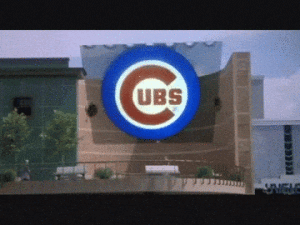 The Chicago Cubs hadn't won the World Series since 1908, so it was an amusing prediction to make in Back to the Future Part II in 1989 that they'd win the World Series in 2015.  They came close, but not quite after losing the 2015 National League Championship Series in a sweep.
The Cubs came back in 2016 and dominated the season with the best record in baseball.  Entering the postseason, they advanced to the World Series for the first time since 1945, ten years before the events of the original Back to the Future film.
Facing the Cleveland Indians in the 2016 World Series, they were down 3 games to 1.  They managed to win the next three games to come back and make this Back to the Future prediction true…but one year late.
Miami, on the other hand, was not so lucky. Their team didn't make the playoffs.
Prediction Accuracy: A year late, but amazingly close for a 27 year old prediction