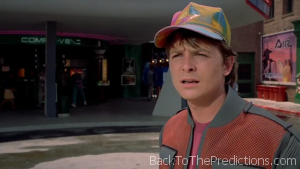 Marty walks out of the alley into Courthouse Square to get his first real look at 2015.  As he watches a car land, we can see a billboard on the alley wall behind him.  It's an advertisement for USAir encouraging people to "Surf Vietnam".
In 1939, Richard C. and Alexis Felix du Pont founded All American Aviation.  The company was renamed All American Airways in 1949 and Allegheny Airlines in 1953.  Following the deregulation of the airline industry, Allegheny changed its name to USAir in 1979.  By the time Back to the Future Part II was released in 1989, the airline was still using "USAir" branding.
In early 1997, the airline introduced a new corporate identity and changed its name to US Airways.  In the early 21st century, US Airways explored a merger with America West.  The merger was completed in 2005 under the US Airways brand.
In 2012, US Airways expressed interest in taking over American Airlines.  On December 7, 2012, US Airways announced the merger proposal and that the combined airline would use the American Airlines name.  The merger was completed on December 9, 2013.
The final US Airways flight departed Philadelphia on October 16, 2015, flew to Charlotte, Phoenix, and San Francisco before returning to Philadelphia at 5:52am EDT on October 17, 2015…just four days before Doc and Marty were scheduled to arrive in 2015.
Contrary to the Hill Valley billboard, neither USAir nor US Airways provided flights to Vietnam, but it could be reached using Oneworld partners.  However, the USAir logo never looked like the logo on the billboard.
Prediction Accuracy: Failed