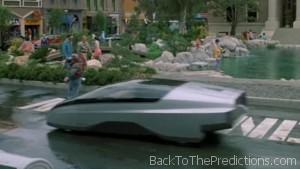 As Marty crosses the street to Courthouse Square, he is so distracted that he nearly gets hit by a futuristic looking car.
You might think this is a car produced just for the movie.  It's not.
This is the 1987 Chevrolet Express, a concept car.  It was a two-door, four-passenger car powered by a gas turbine engine with a carbon-fiber body, covered wheels, and ground effects.  The car was capable of running at a constant speed of 150 MPH.  Occupants would enter the car by raising the roof.  The car featured drive-by-wire controls, instrumentation and three dash-mounted screens, and cameras replacing mirrors.
Although the Express was a fully-drivable prototype, it never entered mass production.  You won't find any cars with this style on the road today.  Although the car's features were not actually shown on screen, you won't find those in most cars today either.
Prediction Accuracy: Failed