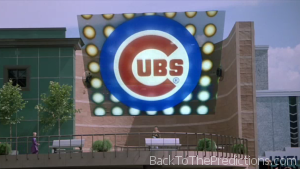 On September 25, 2015, the Chicago Cubs clinched a playoff berth when the San Francisco Giants lost to the Oakland Athletics.  This year will be the first time they've been in the playoffs since 2008.
Unfortunately, there's no chance they'll face Miami in the World Series.  Not only are both teams in the National League (preventing them from facing off in the World Series which is always one team from the American and National Leagues), but Miami was eliminated from playoff contention way back on September 10th.
Could the Cubs turn their Wild Card berth into a World Series win as predicted in Back to the Future Part II?  It's possible, but first they have to get past the Pittsburgh Pirates in the National League Wild Card game on Wednesday, October 7th.  The winner of that game will go on to face the St. Louis Cardinals in the five-game National League Division Series starting on Friday, October 9th.
Prediction Accuracy: Success