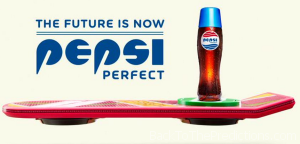 As promised, Pepsi Perfect went on sale on October 21st.  However, Pepsi never actually announced when it was going on sale, where, or provided a link.  Some resourceful people must have found it because according to a tweet by Pepsi, "It sold out faster than we can say 1.21 Gigawatts".
As promised, our limited edition bottles of #PepsiPerfect went on sale this #BTTF morning! It sold out faster than we can say 1.21 Gigawatts

— Pepsi™ (@pepsi) October 21, 2015
Naturally, this has enraged fans…
@pepsi no not as promised. You sold them yesterday and never gave us a time you were selling them. — Andrew Bernal (@AndrewBernal87) October 21, 2015
@pepsi By "This morning," you mean earlier than they should have? And people who wanted them got screwed? Awesome!
— Erik (@refsonic) October 21, 2015
@pepsi Thanks for supplying no info to fans #epicfail — 7hirteen Clothing (@7hirteendesigns) October 21, 2015
Some fans are encouraging others to donate the $20.15 to the Michael J. Fox Foundation for Parkinson's Research.
It seems many of the bottles (including those given out at New York Comic Con) have been obtained by scalpers who already have them for sale on eBay for an average price of $400 to $500 each.
Pepsi's Twitter account has not yet responded to any of the complaints.