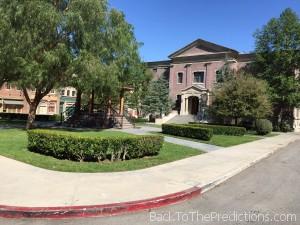 A week ago, I visited Universal Studios Hollywood and took the Studio Tour on a tram through the backlot.  One of the spots the tram visited was the site of Courthouse Square from the Back to the Future films.
Courthouse Square has been seen in many, many movies and television shows before and after Back to the Future.  Some of the more well known titles in which it appears are:
It Came from Outer Space
Leave It to Beaver
The Twilight Zone
To Kill a Mockingbird
The Incredible Hulk
Psycho II
Knight Rider
Gremlins
Sneakers
Weird Science
The Nutty Professor
Escape from L.A.
Batman & Robin
Sliders
Gilmore Girls
Bruce Almighty
Ghost Whisperer
Over the years, several fires have destroyed large parts of the Universal backlot.  Fires in 1990, 1997, and 2008 have destroyed much of Courthouse Square as seen in Back to the Future, but the courthouse and the facade to the north have been spared.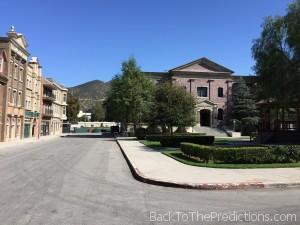 Considering that nearly every part of the backlot has been affected by numerous fires over the decades since Back to the Future, it's amazing that the courthouse is still standing.  However, due to the popularity of Back to the Future, movie producers have had to drastically modify Courthouse Square so that it's not immediately recognizable.
No, Courthouse Square in 2015 doesn't look at all like what we saw in Back to the Future Part II, but it's not a real town square.  It's a set for movies and television programs and cannot possibly be expected to evolve into a bustling downtown with a pond, underground mall, retro cafe, and all the other businesses we've seen in the movie.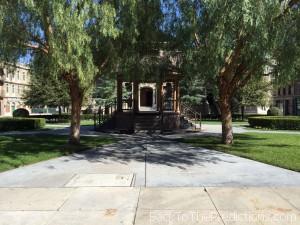 Prediction Accuracy: Does Not Apply