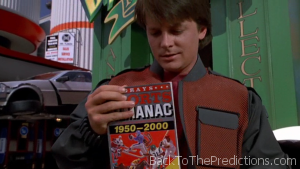 "Who would have thought? Hundred-to-one shot! I wish I could go back to the beginning of the season…put some money on the Cubs."
Marty hears Terry's wish and realizes that it's something he can actually do…and he could "place a couple bets".  Terry's comment puts things in motion that play out for the rest of the movie after Marty buys Grays Sports Almanac.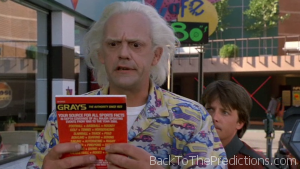 From the cover (and infamous dust jacket), we can tell that the book features "complete sports statistics" from 1950 through 2000.  The cover illustration features hockey, football, basketball, baseball, and horse racing.  The back cover also lists golf, tennis, slamball, track, polo, bowling, surfing, boxing, sailing, auto racing, rugby, soccer, ping pong, darts, swimming, diving, ice skating, racquetball, rodeo, "and more".    When old Biff gives it to his younger self in 1955, he says the book "tells the results of every major sports event 'til the end of this century."
We know for sure that the book has scores for college football played on November 12, 1955 and horse races on Biff's 21st birthday in 1958.
Fifty-one years of sports "facts – figures – records and statistics" for at least 24 sports, but presented in a paperback book that appears to be no thicker than a magazine.  Even Back to the Future screenwriter Bob Gale admits that the book would have to be much thicker.  It's likely someone in the prop department went a little crazy when listing the sports, but it was essential to the plot that the book fit in Biff's pocket and have a dust jacket.  (Who puts a dust jacket on a paperback book anyway?)
You can buy a replica prop (with about 100 pages of random sports statistics), but if you really want to be able to access complete sports statistics from 1950 through 2000, maybe you should use your iPad and put it in a Grays Sports Almanac case. That's as close as you'll get because Grays Sports Almanac does not exist.
Prediction Accuracy: Failed