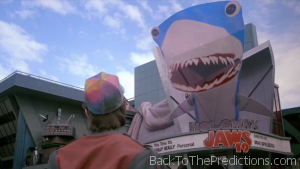 The Holomax marquee reads "Jaws 19 – This Time It's REALLY REALLY Personal".  On the right, it says the film is directed by Max Spielberg.
Obviously, this was put in as a reference to Back to the Future executive producer Steven Spielberg and the Jaws film franchise that he started in 1975.
So who is Max Spielberg?
Max is the real-life son of Steven Spielberg.  He was born June 13, 1985, three weeks before the release of Back to the Future.  By the time Back to the Future Part II was released, he was just four years old.
Although Max does have some credits in IMDb, notably as an assistant to his mother, Amy Irving, during The Rage: Carrie 2, he has not followed in his father's footsteps.  He currently works as a video game designer at Electronic Arts.
Prediction Accuracy: Failed