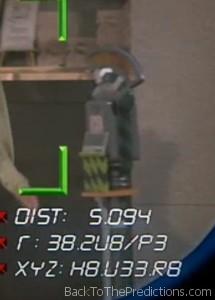 When we see Marty Jr. walk past the women while Doc is spying on him, he walks past a couple parking meters.  We're not able to get a real good look at the meter, but it appears to be a regular coin parking meter to which the prop makers have glued a bunch of junk.
We can infer that they intended to convey that there would be some sort of improvements made to parking meters by 2015.  Maybe payments by thumb (since that seems to be how people pay for everything in Hill Valley)?  They probably jacked up the price too (because some other things seem to have suffered from inflation in Hill Valley's 2015.)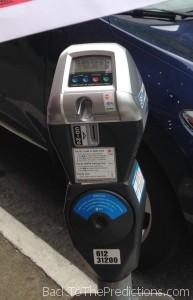 Parking meters are still out there and still used.  Some haven't changed and still use coins…like we're neanderthals.  Other parking meters now allow credit card payments using systems built into the parking meter.  There are also some parking meters in use today in cities like San Francisco that allow you to pay using a mobile app.
In addition to payment options, some current parking meters can detect when a space is occupied and flash when time has expired and the car is still there.  They can also erase any remaining time after a car pulls away.
Is this how the parking meters work in Hill Valley?  We don't know because information on Hill Valley's parking meters is limited to what we see when the camera pans past them on the street.  With only "futuristic parking meters" to go on, we'll give them this round and call it a successful prediction.
Prediction Accuracy: Success