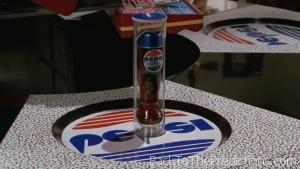 "All I want is a Pepsi!"
Marty clearly learned from his experience in 1955 not to try to order anything other than the advertised beverages.  Pepsi Free?  Tab?  Nope, just a Pepsi.  The Cafe 80's provided him with a bottle of Pepsi Perfect.
Pepsi Perfect is apparently a vitamin-enriched version of Pepsi.  Since 1985, PepsiCo has released dozens of varieties of Pepsi (including the infamous Crystal Pepsi variety).  The closest we've seen to a vitamin-enriched version is Pepsi Natural.  Available between 2009 and 2011, it contained naturally sourced ingredients with no artificial flavor, color, preservatives, or sweeteners.  Not exactly "vitamin-enriched", but all-natural.
Maybe PepsiCo will introduce "Pepsi Perfect" by October, but there's no sign of that yet in our 2015.
Prediction Accuracy: Failed