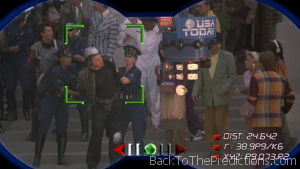 "I was framed!"  Griff shouts as he is arrested by Hill Valley police and a USA Today photographer drone swoops in and takes a photo that's on the front page of tomorrow's newspaper.
It's safe to assume the newspaper's drone is hovering using whatever technology is used to make the cars and hoverboards fly around.  There don't appear to be any conventional thrusters.
Although quadcopters and other flying devices are more commonplace these days and they're often equipped with HD video cameras, the news media is not yet using them to replace actual photographers holding a camera.  The most inaccurate part of this particular part of the movie is that there's not a crowd of people holding up phones to post video of Griff's arrest on YouTube, Snapchat, Facebook, Instagram, and Twitter.
Prediction Accuracy: Failed